Yoga isn't about achieving the pose, it isn't about the shape, the yoga is not something that can be seen from the outside.  The practice of yoga happens on the inside when we bring attention to our experience of moving both mind and body towards greater self-awareness.
~ Jenn Skelton, RePose
I've been practicing yoga for more than 20 years and teaching since 2004.  Yoga helped make a lot of positive changes in my life.  I love yoga.  But it all changed for me in 2011 when I realized that the way I was engaging in the physical practice of yoga ("asana practice" in yoga language) left me vulnerable to a serious pelvic floor injury during childbirth.  Because I had been deeply immersed for over a decade in the culture of yoga in the west, I bought into the dominant messaging that yoga is the remedy for everything.  I had been practicing the "bandhas" (yogic energy locks that include engagement of the pelvic floor).  That a pelvic floor injury was even possible brought me to question everything!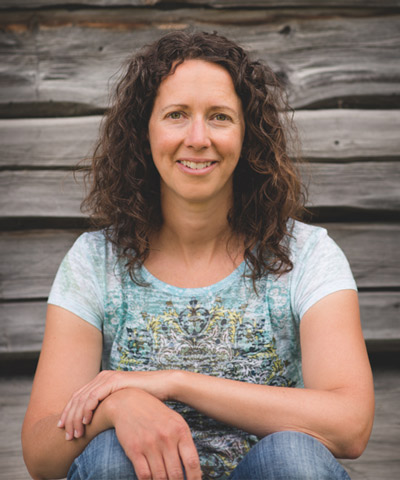 RePose offers yoga, movement and relaxation classes that are based on my personal experience of self-reflection, recovery, and diving deep into the study of anatomy, movement science and pain science. Read on to hear more about what's unique about what you'll experience at RePose.
Around the time of my injury, many long-time yoga teachers that I knew were struggling with hip, hamstring or shoulder injuries made worse by their practice.  Many of us were starting to question the ways we had been engaging with the physical practice of yoga.
My journey led me to study with movement teachers, biomechanists and movement scientists outside of yoga.  I learned a system of objective alignment that was useful for seeing the places in the body that moved well and the places that didn't.  I started seeing where my yoga practice was reinforcing "movement blind spots" rather than leading to greater awareness and change.  It was life-changing to really be able to see the body in this way.
The more I learned about the body the more I realized I didn't know anything.  I went deep into the study of anatomy, biomechanics (how forces affect biology), movement science, rehab, the nervous system, and pain science.  This helped provide a more critical lens through which to understand where yoga really had value therapeutically and where yoga health claims were misleading.
I still love yoga.  There is so much more to yoga than the physical practice; yoga offers powerful tools for the mind and guiding principles for life.  It is a mind-body-spirit practice.  By integrating movement science research with all the other aspects yoga practice offers, my entire being feels stronger and more resilient and I've also seen so many positive effects of this holistic approach with the people I work with.
If you're ready for a mind-body approach to yoga and movement, grounded in both science and tradition, and that honours your body's amazing resilience while supporting your unique and personal experience, you've landed in the right place!
Some Guiding Principles at RePose
At RePose I strive to offer a holistic approach, supporting the connection between mind and body.
Our nervous system LOVES new and novel movements that challenge the mind and the body. Exploring different alignment in the poses, diversifying sequencing, and trying out new movements are some of the things encouraged at RePose.
The refinement is not about what the pose looks like on the outside but about the internal experience during the process of moving there. Finding the work, bringing awareness to our movement blind spots, and learning to activate muscles may mean less visible movement towards what we think the pose is supposed to look like in order to experience those activations.
Rest and relaxation is essential for mental, physical, emotional and spiritual well-being.  Taking time to practice doing nothing is not only productive but essential!  You'll find Restorative yoga classes at RePose and in active classes you'll be encouraged to rest when your body needs it and reminded that lying down and visualizing the movement activates the same brain pathways and is itself a progression towards the movement!
Laughter is important.  Movement practices don't have to be serious.  Exploring movement options, getting curious and trying new things is fun and may result in spontaneous laughter.
Changing the focus from passive flexibility to mobility (which is flexibility combined with strength or stability) is a cornerstone of the yoga classes at RePose. This is how we can work to gain strength and control through our full range of motion. Passive stretching has benefits for our nervous system, so you'll still find it in RePose classes, just more emphasis on strength, active range of motion, and progressively loading (except in Restorative yoga classes, which have an entirely different focus).
Practicing yoga, diversifying movement options, or tapping into the healing power of breath and relaxation should be accessible and not depend on age, body, gender, race or ability.  The practice is internal and each person's experience with breath, movement and mindfulness will be unique.  At RePose I aim to offer a safe environment and to continue to educate myself about how to be more inclusive in my teaching.
Because the work is internal and not visible from the outside, at RePose you will never receive a strong "yoga adjustment" to bring you "deeper into the pose". In some cases, touch may be used to provide you tactile feedback to help you figure out how to create the activations required. In these cases you will always be given the option to decline and your choice will be respected.
Some of the Areas I specialize in:
Pelvic Health;

Chronic Pain;

Stress, Anxiety & the Nervous System;

Strength & Mobility;

Understanding Alignment & Movement Blind Spots;

Foot Health & Transitioning Footwear;

Developing Specialized Practices for Individuals.
Find out more about working with me privately!