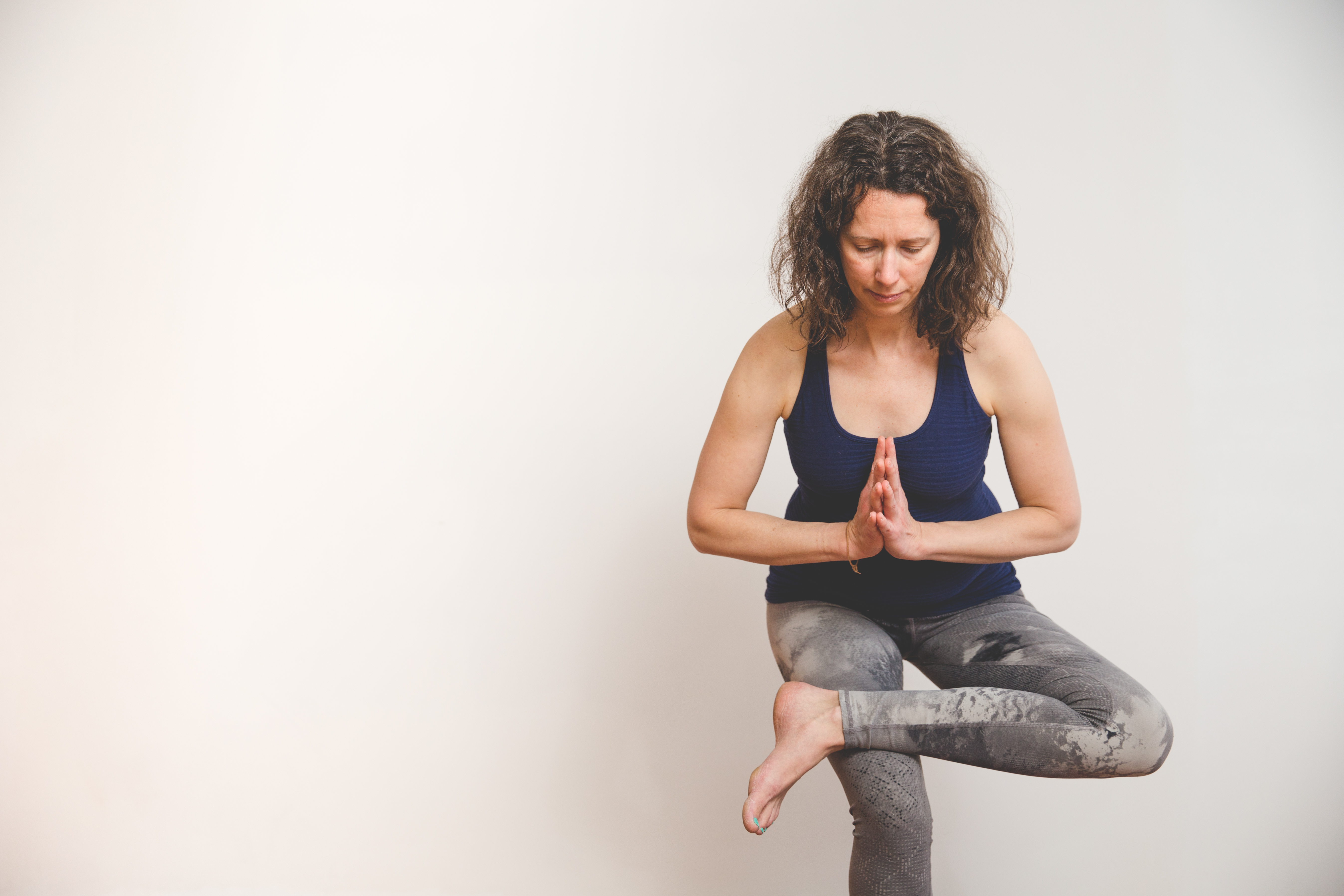 15 Aug

Fall Yoga Classes
September 23, 2019




5:30 pm - 7:00 pm

September 30, 2019




5:30 pm - 7:00 pm

October 7, 2019




5:30 pm - 7:00 pm

October 21, 2019




5:30 pm - 7:00 pm

October 28, 2019




5:30 pm - 7:00 pm

November 4, 2019




5:30 pm - 7:00 pm

November 18, 2019




5:30 pm - 7:00 pm

November 25, 2019




5:30 pm - 7:00 pm

December 2, 2019




5:30 pm - 7:00 pm

December 9, 2019




5:30 pm - 7:00 pm

December 16, 2019




5:30 pm - 7:00 pm

September 25, 2019




7:15 pm - 8:45 pm

October 2, 2019




7:15 pm - 8:45 pm

October 9, 2019




7:15 pm - 8:45 pm

October 16, 2019




7:15 pm - 8:45 pm

October 23, 2019




7:15 pm - 8:45 pm

October 30, 2019




7:15 pm - 8:45 pm

November 6, 2019




7:15 pm - 8:45 pm

November 13, 2019




7:15 pm - 8:45 pm

November 20, 2019




7:15 pm - 8:45 pm

November 27, 2019




7:15 pm - 8:45 pm

December 4, 2019




7:15 pm - 8:45 pm

December 11, 2019




7:15 pm - 8:45 pm

September 24, 2019




12:10 pm - 12:55 pm

October 1, 2019




12:10 pm - 12:55 pm

October 8, 2019




12:10 pm - 12:55 pm

October 15, 2019




12:10 pm - 12:55 pm

October 22, 2019




12:10 pm - 12:55 pm

October 29, 2019




12:10 pm - 12:55 pm

September 26, 2019




12:10 pm - 12:55 pm

October 3, 2019




12:10 pm - 12:55 pm

October 10, 2019




12:10 pm - 12:55 pm

October 17, 2019




12:10 pm - 12:55 pm

October 24, 2019




12:10 pm - 12:55 pm

October 31, 2019




12:10 pm - 12:55 pm

November 7, 2019




12:10 pm - 12:55 pm

November 14, 2019




12:10 pm - 12:55 pm

November 21, 2019




12:10 pm - 12:55 pm

November 28, 2019




12:10 pm - 12:55 pm

December 5, 2019




12:10 pm - 12:55 pm

December 12, 2019




12:10 pm - 12:55 pm

September 27, 2019




5:30 pm - 7:00 pm

October 4, 2019




5:30 pm - 7:00 pm

October 11, 2019




5:30 pm - 7:00 pm

October 18, 2019




5:30 pm - 7:00 pm

October 25, 2019




5:30 pm - 7:00 pm

November 1, 2019




5:30 pm - 7:00 pm

November 8, 2019




5:30 pm - 7:00 pm

November 15, 2019




5:30 pm - 7:00 pm

November 22, 2019




5:30 pm - 7:00 pm

November 29, 2019




5:30 pm - 7:00 pm

December 6, 2019




5:30 pm - 7:00 pm

December 13, 2019




5:30 pm - 7:00 pm

November 5, 2019




12:10 pm - 12:55 pm

November 12, 2019




12:10 pm - 12:55 pm

November 19, 2019




12:10 pm - 12:55 pm

November 26, 2019




12:10 pm - 12:55 pm

December 3, 2019




12:10 pm - 12:55 pm

December 10, 2019




12:10 pm - 12:55 pm
This fall RePose is doing something a little bit different. The idea is to provide the same high quality, tailored-to-you classes that blend modern movement science and nervous system research with the best from the yoga tradition, while also providing you more flexible registration options.  Read on below and you can register for all Fall Yoga Classes at the bottom of this page – see the schedule in the graphic below.

What's New
MORE CLASSES
RePose has more NEW classes throughout the week at different times and is offering more flexible registration options.  These classes will run for 12 weeks from September 23 – December 16.
Classes are suitable for all levels and there is something for everyone –  Yoga Strength classes focus on building strength with flexibility.  The Hips & Low Back class is specifically focused on building strength and mobility and reducing pain and tension in the hips/low back/pelvis.  Yoga Nidra offers deep rest and reprieve in the middle of the work day and Strength and Restore has 45mins of active yoga with a strength and mobility focus and finishes with 45 mins deep relaxation in Restorative yoga.  You can read more about each class at the individual hyperlinks above or read all of the class descriptions here.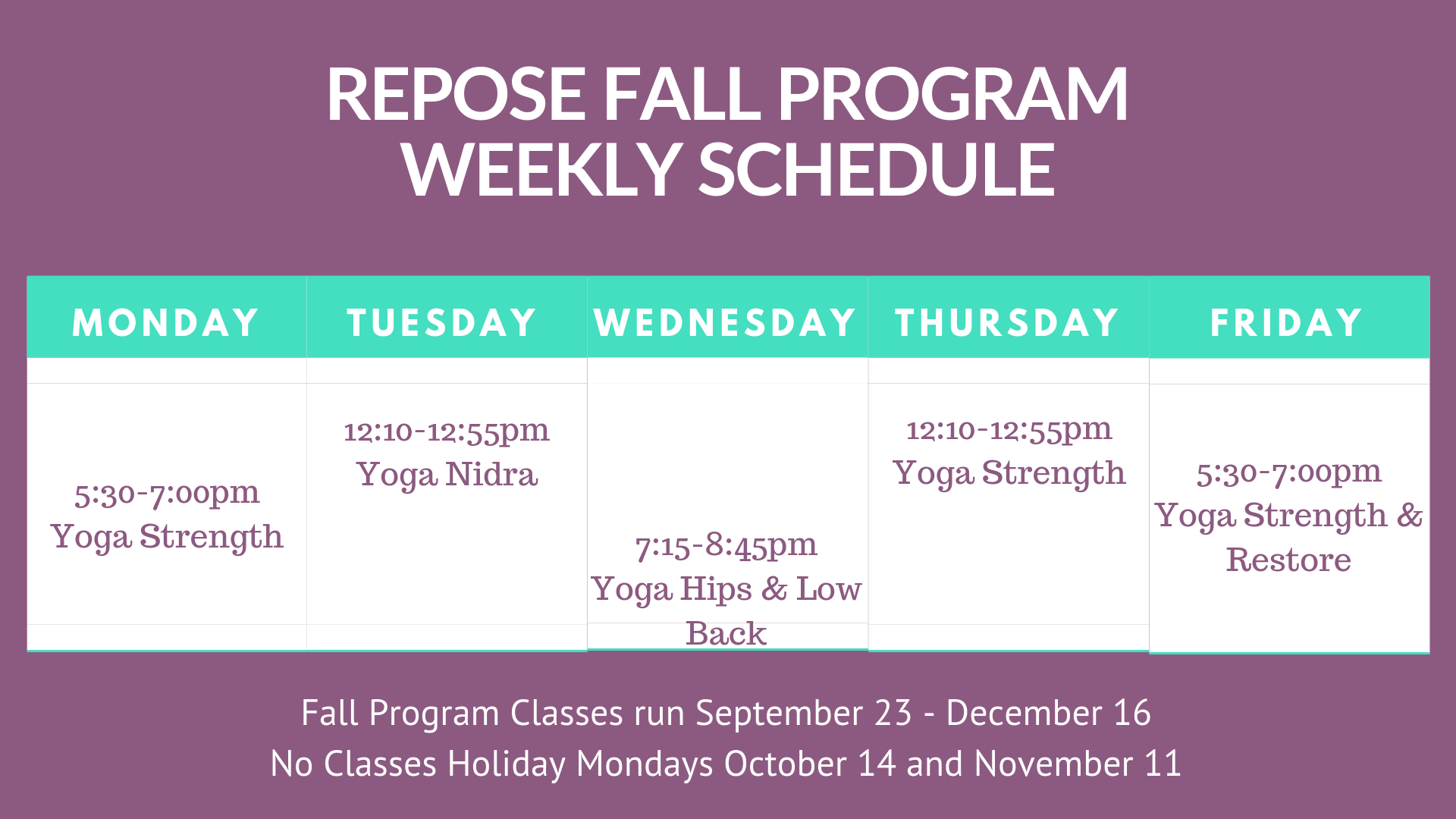 What people are saying about Jenn:
"I've been working with Jenn for about 2 years at her studio. I have taken a couple classes on strength and my favourite is restorative. She is not your average yoga instructor. She takes her time to make sure you're happy and comfortable throughout her classes. Her knowledge on proper alignment is extensive and I have learned so much! Also her studio is beautiful, calm and relaxing." – Samantha Mtatiro

"I saw Jenn for private sessions for hip and leg pain that I'd been dealing with for years.  I tried physiotherapty and chiropractors but Jenn was the only one who was able to help me finally get back to being consistently pain-free and feeling strong and confident in my body again!" – Claudia Haas
"Jenn's considerable knowledge in the area of biomechanics, her many years of teaching, combined with her passion and dedication to the practice of yoga make Jenn an amazing and trusted teacher." – Toni Riley
"Jenn is very knowledgeable and continues to empower herself with research on biomechanics to integrate into her yoga practice. I find her calm demeanor refreshing during each session, it leaves me feeling rejuvenated at the end of each class." – Erin Scott

FLEXIBLE REGISTRATION OPTIONS
Fall All Class Pass Offers:
Attendance in as many of the 59 fall program classes as you want;
15% off any pre-registered class series, special classes or workshops offered between September – December (potential $130 in savings when combined with the 50% discount on Restorative below);
50% off monthly Restorative yoga classes this fall;
Private Facebook group with home practice videos for breath, yoga, strength, mobility, pelvic floor, and relaxation and opportunity to ask questions;
Limited number of memberships means classes will still be tailored to those that sign up;
This registration option offers the greatest value.
8-Punch Pass Offers:
Flexible attendance to 8 classes of your choice;
A chance to experience RePose classes which offer high-quality classes that blend movement science, nervous system relaxation and the yoga tradition.
I am really excited to be offering this NEW Fall Yoga Schedule at RePose.  You can register below. Once you purchase either a fall all class pass or an 8-punch drop-in pass these details will be held at the studio for you when you sign in each class.  You will receive an email in early September with additional information and a short form to fill out. If you have any questions you'd like answered before you register please contact me.
Please Note that all passes below are valid September through December 2019. Classes will begin the week of September 23 and the last class will be December 16. Fall All Class Passes will still be valid through December 31 for your discount on any special programming that month. Passes are non-refundable and cannot be transferred to another person or extended beyond December 2019.  
Address:
4910 50th St.
, 3rd Floor,
Yellowknife