After having my own babies in 2010 and 2012 I focused exclusively on teaching Prenatal & Postnatal Yoga from 2012-2015 while I was myself immersed in this stage of life and deeply absorbed in studying everything I could about birth, postpartum recovery, biomechanics and the pelvic floor as part of my own healing journey.
While I have now expanded beyond solely teaching Prenatal & Postnatal Yoga, I remain dedicated to working with women as they prepare for pregnancy, birth and beyond.
My wish is for more women to feel stronger, pain-free, and fantastic during pregnancy and to release fear and feel empowered, supported and confident for childbirth.
When there emotional or physical trauma from childbirth, I want women to know that they can seek help, and that there are ways to heal.  The pelvic floor is resilient and current pelvic floor weakness is not a life sentence.
Managing the joys and challenges that come with finding a new rhythm to life with baby is not easy.  Finding balance and facing life's daily struggles with resilience requires an adequate amount of community support, the ability to find time for self-care and honouring the individual ways in which we can recharge our batteries.

"Jenn your knowledge helped me to fix and understand issues in my pregnancy. Thank you. You are amazing!"
My regular Prenatal Yoga & Movement classes usually run for 6-weeks and focus on creating strength, pelvic floor awareness, releasing fear, connecting with your baby and building confidence for birth.  They are also a great way to meet a community of other women sharing the experience of pregnancy.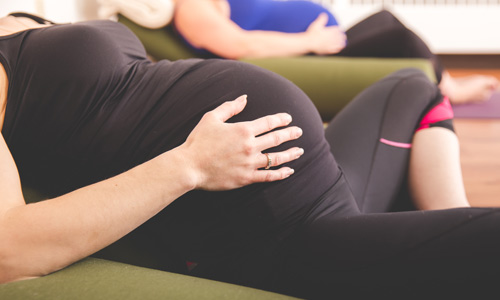 "Jenn you have such a soothing presence that helped alleviate a lot of fears or misconceptions about childbirth which I appreciate."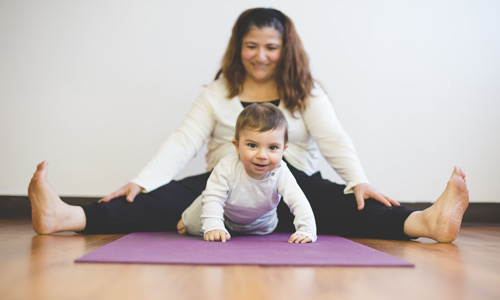 I love teaching Postnatal Yoga & Movement classes for mamas with babies but have put this class on hold for the time being. Feel free to contact me if you are interested in the next available session. In these classes you have the opportunity to meet other mamas and babies while finding time for self-care, releasing shoulder tension and safely regaining core strength.
Although I am not currently teaching Postnatal Yoga & Movement, I do see private yoga therapy clients and provide support for pelvic floor health; diastasis recti and postpartum recovery; and breath, relaxation and Restorative yoga therapy to support mental well-being.
For mamas with babies older than 6 months (and maybe even several years) I frequently offer Pelvic Floor Yoga classes. These classes are available to both mamas and those that have never birthed children but also wish to improve pelvic health through a holistic approach informed by research.
My Restorative Yoga classes are open to everyone (not just mamas) and provide the time for deep relaxation that is helpful for insomnia, anxiety, stress, overwhelm, depression and finding our ability to be resilient in the midst of the chaos of life. These classes are beneficial for any parent!
You may also be interested in my Pelvic Floor Workshop, often co-taught with a Pelvic Health PT.
Find out if there is current class or workshop scheduled

"Excellent class! Jenn, you are a key resource for first time moms like myself!"
I also offer private appointments for those that need additional support. Private appointments are tailored specifically for you!