Want a yoga class, yoga therapy class or movement-based workshop tailored to your needs or the needs of your group?
Contact me for a quote, providing a short description of what you are looking for. I can be booked for private requests at your location or at the RePose studio. You can also read more about my private one-on-one sessions and areas of expertise, as well as my Corporate Program below.
Are you interested in Yoga Therapy and Movement Education to optimize your health?
Do you want to improve your strength and mobility to create change that will help you feel great? Are you experiencing persistent pain and want to understand different approaches to change the nervous system in order to change pain? Or maybe you feeling tired, stressed, overworked or overwhelmed and want to focus deeply on breath and relaxation techniques tailored for you to help you find calm in your life?
Booking a private session might just be for you!
Private sessions are personalized to your needs and may draw from a variety of breath, yoga, movement and yoga therapy practices to meet your objectives for working together.
I'm a full-time Yoga Therapist and Movement Educator and love working privately with clients to tailor practices specific to the individual that take the whole unique person into account. It is amazing to observe how yoga, breath and movement practices result in big changes for people dealing with a variety of different health challenges! I believe yoga and movement practices can have a significant impact on healing as a complementary therapy and unfortunately have been mostly overlooked by our modern healthcare system.
In addition to certifications as a Yoga Therapist (C-IAYT) and Experienced Yoga Teacher (RYT-500) I hold certifications as a Restorative Exercise Specialist (assess alignment and movement patterns), Relax & Renew ® Level 2 Restorative Yoga Teacher, and in Advanced Pain Care Yoga. I'm also a Registered Prenatal Yoga Teacher. I've also taken several advanced courses on pelvic health from both yoga therapists and physiotherapists. I continue to take additional training every year both from within the fields of Yoga and Yoga Therapy as well as from teachers in the exercise science and pain science fields.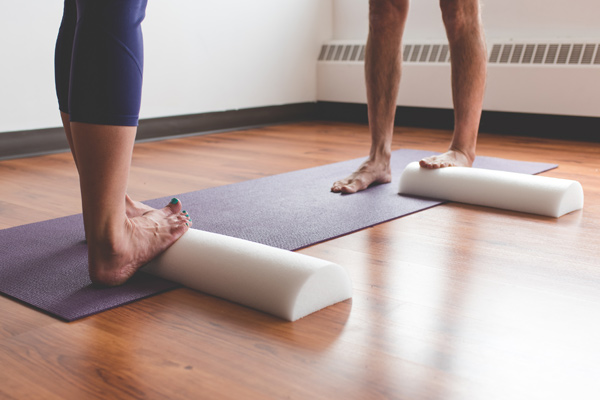 How Private Sessions Work
Personalized care and instruction
Your first session will take between 60-75 minutes, and will include a discussion of your objectives and a review of your current health and well-being. Prior to this session you will be asked to fill out an intake form. Based on your stated objectives for our work together, we will choose the most appropriate yoga postures, movement techniques and other practices for you.
Subsequent sessions are usually 60 minutes and will include further refining or deepening the practices and exercises tailored for you, assessing your progress, and revisiting your objectives when necessary.
For Restorative yoga sessions it is recommended to book an hour and a half.
I encourage clients to practice at home outside of our sessions together and I provide you with practices outlined for home practice (videos linked where possible). After the first session you will receive an email containing guidance on what to include in your home practice. Subsequent sessions receive updates to this as needed. I will also give you many suggestions for how to incorporate helpful practices throughout your day as you go about your normal routines.
Pricing
Bookings are available Mondays & Thursdays 9am-3pm
Regular Sessions (1 hour):
$125 ($110 when 6 or more booked within 3 months)
$155 evening/weekend rate (limited evening or weekend bookings available/week)
Restorative Yoga Sessions (1.5 hour)
$175 ($160 when 6 or more booked within 3 monhts);
$220 evening/weekend rate
1 – 2 people/session. For more than 2 people please contact me for a quote for a private class.
CONTACT JENNIFER TO BOOK A PRIVATE SESSION.

"Jenn is very knowledgeable and continues to empower herself with research on biomechanics to integrate into her yoga practice. I find her calm demeanor refreshing during each session, it leaves me feeling rejuvenated at the end of each class."
More Information About Private Sessions
Some Benefits of Private Sessions with Jenn
Practices chosen for you to specifically address your goals and target your personal movement blind spots

Working with someone with experience that is knowledgeable not only about yoga practices but about alignment, biomechanics, pain science, injury prehab and rehab and the nervous system to be able to tailor the yoga practices that will be the most effective for you

Someone to observe your movement patterns and help faciliate your discovery of where your body is or isn't moving efficiently

If you are dealing with an injury, illness, experience of pain, depression or anxiety, working privately with a Yoga Therapist provides an opportunity to develop specific yoga sequences and exercises to meet your needs that are not available in a group class

Stress reduction and improvements to mental health

Increased strength and mobility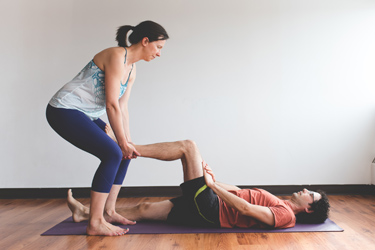 Some of the Reasons People Book Private Sessions with Jenn
Have specific goals for improving areas of strength and/or mobility and/or ability in yoga postures
Experiencing or recovering from injury, illness, or mobility-restriction and want tailored practices more appropriate than they can get in a group yoga class
Feel uncomfortable going to a group yoga class and/or simply want the one-on-one experience and a yoga practice tailored for them
Experience of persistent pain and want to explore how yoga and movement therapy might help alleviate symptoms (Jenn is certified in Pain Care Yoga as taught by Neil Pearson, a Physiotherapist and Canadian expert on working with clients in pain)
Looking for support with developing a yoga practice at home that meets personal needs
Desire to reduce stress and practice Restorative yoga at home and looking for a personalized Restorative yoga practice sequence
Experiencing pelvic floor dysfunction and/or diastasis recti (DR) and want to try a yoga therapy approach including breath awareness, corrective exercise, habit modification, strengthening and release techniques, and yoga practices to find improvement.
Assistance with exercises and practices learned in a workshop (Functional Feet, Pelvic Floor, Get More Out of Your Walk, SI Joint & Low Back Pain, etc.)
Help with balance and fall prevention.
What is Yoga Therapy?
The International Association of Yoga Therapists (IAYT) defines yoga therapy as the "specific application of yogic tools – postures/exercises, breathwork, meditation techniques, and more – to address an individual's physical, mental, and emotional needs.
You can find out more about how the IAYT defines Yoga therapy and the work of the IAYT here.
Although I am certified as a Yoga Therapist with the IAYT, not all of the work I do falls under the umbrella of Yoga Therapy. This makes it challenging to describe what I do! Most simply, all of my work focuses on using breath and movement to improve mental, physical, physiological, and emotional health. Some of my specific areas of focus are highlighted below.
Jenn's Areas of Interest & Expertise
I am passionate about helping people move and feel better! To continue to grow and expand my understanding and ability to help others, I pursue additional education in the therapeutic applications of movement every year. These days most of the courses I seek out are science-based and fairly specialized. This is a list of my particular areas of interest that I have taken specialized training in and/or continue to pursue.
Nervous System, relaxation response, Restorative yoga
Strength & Mobility Conditioning
Pelvic Floor
Diastasis Recti
Foot Health
Whole Body Biomechanics & Restorative Exercise
Persistent Pain
Prenatal Health
Injury Prehab & Rehab (Progressive Overload)
Resistance Stretching (hands-on technique incorporating concentric, isometric and eccentric muscle actions)
Balance & Fall Prevention for Elders/Seniors
Corporate Workshop (3-hour or as tailored to your needs)
Bring RePose into your Boardroom! This program is available for booking for government, corporate and other workplaces.
Word is out that sitting is the new smoking when it comes to the long-term health implications and many workplaces have been moving to standing workstations or sit-stand stations. This is definitely a step forward for health in the workplace – yay!
Regardless of whether you are sitting or standing at your desk, if you are mostly sedentary in one position you may have experienced tension, discomfort, and low energy.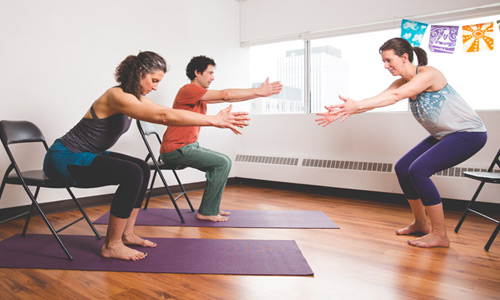 Want to feel great at work?
Or, better yet, interested in contributing to your employees' well-being, increasing their overall happiness at work and by extension – their productivity?
This workshop will show you and your employees or colleagues different ways to sit, stand and move better while working. We'll summarize some of the data on sitting and the impacts to health and then get up and practice moving. We'll practice simple stretches and strengthening exercises you can do at your desk (in your cubicle) throughout the day to improve your health and how you feel, as well as your ability to focus and be productive.
You will leave this workshop feeling better about your ability to improve your health at work. A handout to pin up next to your desk will be provided with simple desk exercise reminders.
IF YOU ARE INTERESTED IN BOOKING THIS WORKSHOP AT YOUR WORKPLACE, PLEASE CONTACT ME FOR A QUOTE.